Businesses are struggling to keep up with their talent management practices. In the current global business environment, it is getting tougher to hire and retain top talent. With the recession weakening revenue streams and the great resignation causing employers to lose their top talent to their competitors, businesses are at a tipping point. 
In such tough times, when the skills gap is widening, hybrid work setups have become a reality, and employees' expectations are constantly changing, HR professionals look at their talent management strategies to stay sustainable in the long run. 
Per the Willis Towers Watson's 2022 Global Benefits Attitudes Survey, 44% of employees are planning to leave their jobs in 2022 for multiple reasons. If the trend continues, it could have catastrophic consequences for business sustainability. 
For now, HR professionals are eyeing developing robust, scalable, effective, and tech-enabled talent management systems to find solutions to the unprecedented challenges. 
Can the tech-enabled talent management systems really turn around the current stride of talent shortage and retention?
In this article, we will explore and unpack the intricacies of managing talent and will discuss the following:
What is Talent Management?
What do you think is the most limiting factor for organizations in today's business world—is it financial capital, technology, or supply chain? 
It is the most powerful, yet vulnerable business resource – human capital. Without people, other business factors would be limited.
Organizations that focus on their workforce are able to create a competitive advantage in the market. They create systems that help with dynamic resource allocation, matching employees' skills with the relevant positions, and closing skills gaps. It helps transform themselves into high talent capability organizations. 
Talent management, also known as TM, is a system of processes that encompasses hiring, retaining, and developing talent, is the key to creating ambitious talent capabilities in organizations. It is a multifaceted and strategic process that helps employers find the right talent, develop them through learning and development, and skill them for current and future work.
Furthermore, it touches upon different aspects of an employer's business activities, such as succession planning, employee onboarding, and even departures. 
Importance of Talent Management 
Per HBR's report, the average monthly employee attrition rate from 2009 -2019 increased every year significantly, showing that HR policies and practices have been ineffective at containing voluntary employee quits. 
The current mass exodus of employees has made managing talent extremely important for organizations. They are redefining their strategies by keeping employees at the forefront of their key business decisions. 
Why is talent management given so much importance? 
To understand this, we will have to look into the key business metrics that are affected by it.
To establish the relationship between talent management and company performance, McKinsey conducted a survey and found that organizations with more focus on talent management practices are able to achieve more than their counterparts in terms of total returns to shareholders. The key findings of the survey are as follows:
Companies with very effective TM reported six times higher total returns to shareholders than companies that were very ineffective at talent management

Three strategic elements were found to be highly effective: attracting talent and skills; retaining talent and skills; and improving overall performance through TM

When asked about the effectiveness of the organization's TMon overall performance, only 5% responded that it was very effective, and 4% said it was very ineffective
The below image shows the categorization of survey responses along with the elements used by organizations to realize TM strategies.
Source: McKsiney.com
It is quite clear from the research that organizations with strategic talent management practices are able to achieve better results and create a competitive position through their dynamic and skilled workforce.

Talent Management for a Hybrid Workforce
In the current business era, talent management is not just an HR problem; it is a business problem with implications across key business parameters. 
Globally, organizations are facing challenges of a hybrid work setup; employee dissatisfaction, lower engagement, and high employee turnover, all despite offering several growth opportunities and development programs.
The new business challenges have outgrown the traditional HR practices. Consequently, it makes organizations inefficient at finding underlying problems in their management systems and leads to poor business performance.
Organizations need a modern talent management system that takes changing business environments, employees' expectations, and changing trends in employee hiring and retention practices into consideration. A system that can seamlessly manage a diverse and geographically distributed workforce and can deliver as per the expectations of both employees and employers.
A dynamic and tech-enabled talent management construct is the answer to the challenges put forward by the changing global workplace. Not just does it address the insufficiencies introduced by the hybrid setup, but it also aids in creating a progressive, interconnected, agile, and productive work environment.
 If your organization is facing any of the below impediments of the evolving and changing workplace, then talent management is the solution you are looking for.
Inability to retain top talent even after incorporating learning and development programs

Improper employee forecasting leading to a scarcity of skilled employees

Inability to find suitable candidates

Unable to tap into the internal employee skills mobility 

Biased hiring process

Outdated applicant tracking system

Making applicants' experience awful

Taking too much to hire employees

Providing bad onboarding experiences to new hires

Unable to gauge skills and talent of employees
The global workplace is becoming a hybrid, diverse, distributed, interconnected, and socially connected playfield. It requires new talent management rules to sustain and thrive in the changing business dynamics. Organizations need to leverage talent management to solve the growing problems of their changing workplace.

The Different Stages/Phases of Talent Management
Talent management is a one-stop solution for creating a fulfilling employee experience and solving workforce challenges. Earlier, it was constrained only to the hiring and retention of employees, but the changing technical dynamics have given rise to a system that acts as an overarching mechanism for activities ranging from hiring to the exit of an employee.
A typical talent management system is responsible for the following in organizations:
Employee performance management

Talent planning and acquisition

Employee goal management

Employee retention

Succession planning

Learning management

Employee overall experience
The various stages of a talent management model help accomplish the above responsibilities in the following manner: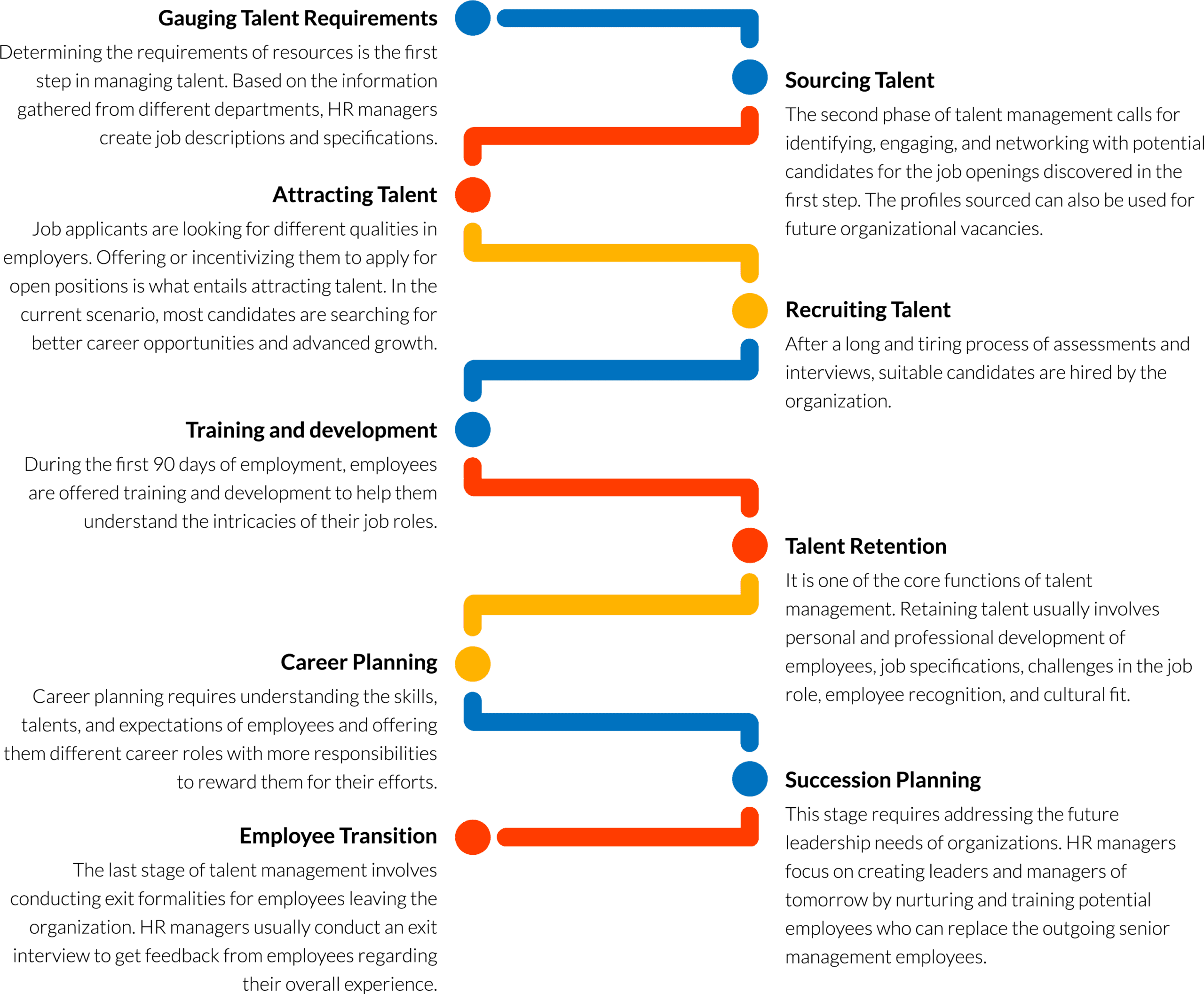 What are the Benefits of Talent Management?
So far, we have understood that TM helps enhance the overall employee experience, starting from hiring, retaining, and development to their exit. 
But the grueling question is "what benefits does talent management harbinger for organizations and employees?"
Around 48% of S&P companies during the recent pandemic funded at least one of their talent management investments (employee benefits and employee well-being) to support their workforce. The result was a 21% increase in employee discretionary effort, which is twice as much impact as any traditional program offers. 
Talent management has an overarching impact on an organization's performance, productivity, and growth. It enables organizations to achieve their goals and helps them create a competitive advantage in a tight labor market. Successful companies like Microsoft, Google, and Accenture have used talent management to achieve the highest potential of their workforce.
To further understand the impact of TM on organizations, let's dive into some of its tangible and intangible benefits.
Data sharing across different departments

Organized recruitment process

Better employee onboarding experience

Focus on employee development and growth

Data-driven employee management

Deeper employee engagement

Better succession planning

Improved employee performance management

Employee-centric policies

Improved employee retention

Talent Management Best Practices
Talent is a scarce resource, and organizations need to manage it well to achieve success. The benefits of TM are indeed alluring, but there are a myriad of challenges on the way to achieving them. 
In the words of Kyle Risley, the founder of Lift Vault, if you want your talent management efforts to succeed, you have to be proactive in building your roster of talented team members. Ask employees how they want to be valued and developed in your organization. The feedback you'll get from your team members is often the most important way to steer the ship. If you find your current talent management system is pushing your employees towards attrition- use that opportunity to ask them what they're leaving for, and what made them leave your company in the first place. 
To get the most out of TM, you can implement some best practices that serve as the foundation of an effective talent management system.
Ensure great coupling between business strategies and talent goals

Involvement of every member of the organization in enhancing the overall employee experience

Involve experienced HR leaders and consultants for careful job planning and forecasting

Focus on employee branding to attract potential employees

Select right candidates with suitable skills and experience

Set up employee mentoring and coaching programs to attune to the needs of changing business needs

Create a rewarding employee onboarding system

Communicate effectively at all levels of the organization

Automate mundane and manual TM processes

Use talent management software 
Talent Management Strategies
A talent management strategy is a game plan created by HR leaders to enhance the overall employee performance and experience. When implemented well, it aids in sourcing the best talent, retaining top-performers, reducing employee turnover, increasing revenue per employee, and becoming a desired employer amongst candidates. 
Companies like Cisco, Hilton, Salesforce, and Accenture have made their way to the Fortune 500 list of best employers based on their unwavering focus on managing talent.
Building talent strategies requires collaboration from multiple departments and the support of upper management. The following time-tested strategies will help you get started with the TM process in your organization.
Set organizational level goals

Create specific, detailed, and well researched job descriptions

Focus on culture compatibility while hiring

Standardize procedures for hiring and employee onboarding

Offer customized learning and development opportunities to employees

Involve employees in their growth and development plans

Switch to a continuous performance management system

Recognize and reward top performers and create learning paths for others to reach their highest potential

Create an open culture that talks about career development, personal achievements, motivation, and the higher purpose of living
What is Talent Management Software and How Can it Help?
A talent management system (TMS) is software that encompasses various TM processes. By integrating sourcing, hiring, onboarding, retention, learning and development, and succession planning, it helps HR managers leverage technology for core talent processes. 
TMS gives life to talent management strategies and helps align businesses with talent goals. Furthermore, it acts as a standalone application that organizes incoming data from multiple HR activities and offers actionable insights to leaders to plan out actions. 
Organizations that use TM software are able to make swift and data-driven decisions. It also offers technical capabilities to seamlessly integrate with other tools for a rewarding and fulfilling employee experience.
Current Trends in Talent Management
Steven Hankin, from McKinsey & Company, coined the term "War For Talent" in 1997 to highlight the competitiveness among companies to hire and retain the best talent. 25 years have passed and the war is still on. It is being fueled by the challenges put forth by the pandemic, the changing climate, and many other social and political factors. 
Trends in TM are driven by industrial, political, social, technical, and other important changes. Some of these current trends are more futuristic, and some are currently being implemented on a wide scale.
Remote and hybrid work environments are taking over in-office and on-campus work setups

Diversity, equity, and inclusion are becoming the hardcore values of organizations

Growing investments in employee health equity

Integration of humans and machines for business success

Integrated hiring process for HR adoption and agility

Customized learning and development programs for employees

Skilling, reskilling, and upskilling of employees
Conclusion
The recent shifts in the global business environment call for a talent management system to be agile to accommodate employees' perceptions and expectations, as well as offer a quick response to sudden changes.
With talent management in place, you can hire the best talent and develop them to take more responsible positions in the future. Furthermore, with a skilled and dynamic workforce, your business will always be ready to adapt to opportunities created by unanticipated changes on a global scale. 
September 6, 2022
HR professionals often lose their best talents to competitors and clients. If…
September 5, 2022
Data is present throughout the employee cycle, from the data-driven recruitment…